Pool Table Moves & Pool Table Repair
Please consider the risks of having your pool table moved by anyone other than a professional. We have been servicing the area for years and have all the necessary experience to professionally service your pool table. Our crew of professional pool table movers has built a solid reputation based on the quality of our work and service standards.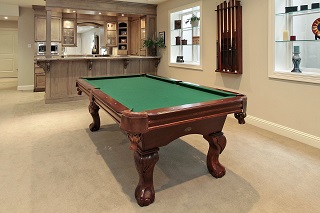 If you're looking for premium service and the best guarantee in the industry. Let our professional pool table installers take care of your move. We only use the appropriate tools to make sure your table is in the best playing condition it can be once we finish.
One should always be cautious when moving a pool table with anyone else other than a professional because only a professional knows how they should and shouldn't be moved and not many people can consider themselves professional pool table movers.
Pool table moves with our nationally backed company are easier than ever, accompanied by a guarantee on our service. Give us a call for more information!
We will properly disassemble your pool table and safely prepare it to be moved. Taking the slates from the frame and getting the table into a bunch of smaller pieces so they can be safely transported to the new location.
Once at the new location our team of professionals will take care of the pool table setup with precise leveling on the surface to ensure a clean install and a perfect playing field. If you're moving out of state or need the table stored for some time and would like the slates created, we can also help. Members of the American Billiard Installers Association, we are a recognized business in our industry.
Professional Pool Table Repair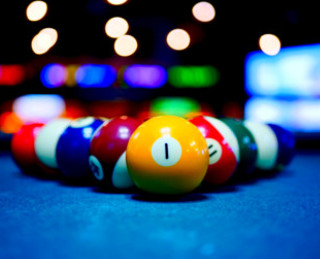 In order for us to provide an accurate quote regarding any repair, first, we must know the pool table specifications, such as the dimensions of the table, the type, and model of table, as some are easier to disassemble and reassemble than others, and any other circumstances and situation of the move.
Keep in mind that one of the most common repairs is the pool table refelting during installation. Be sure you check the condition of your felt to weigh out your options or any other repairs you may need.
We are residential and business pool table movers. Pool table moves in businesses may incur extra charges in the event we encounter complicated moves with elevators or have parking issues for your job.
We may charge extra for excessive stairs when moving a 3 piece slate pool table. In case your table is a single slate top, we will definitely need to know the size of the table and stair situation, such as if there are any turns or if we have to go up or down.
Pool tables that have just one solid piece of slate are extremely heavy and difficult to move since they cannot be completely taken apart. There are cases where we may not move it because of the stairs situation and liability issues. Check out a chart with a list of the correct pool table room sizes to help you determine the appropriate size of the pool table for your game room.
Pool Table Repair Services Offered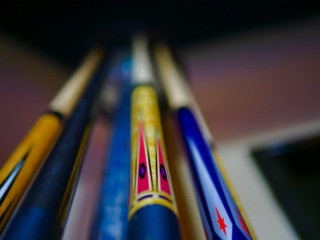 We have experience in all types of pool table moves and services, including moving from one home to another, from a home to a storage unit or garage and moves in two appointments for when you are having your floor replaced, move from business to your home and vice versa.
Other services include professional pool table refelting, disassemble, proper pool table installations and pool table repair, such as pocket replacement, re-cushioning, leveling and more.
Factors involved in a Pool Table Repair
Please consider the risks involved when moving your pool table, these could mean costly damage to the pool table or even injury. Our exclusive 1-Year service written guarantee covers any issues related to our work and our certificate of insurance protects you against the unexpected. As Members of the American Billiard Installers Association, we provide the best service possible and make sure your pool table is properly taken apart, safely moved and professionally setup. Your pool table will be in the best playing condition it can be when we're finished.
The process of moving and installing a pool table is rather complex and can be a very dangerous task on your own. The pool table components are not only heavy but also could get damaged very easily, dropping a piece of slate, for example, could not only result in it breaking but also damaging your property and even worse you could end up injured.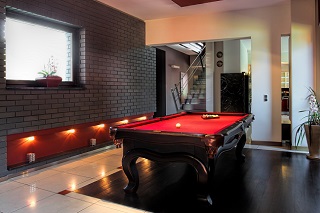 A professional certainly will make that risk as small as it can be, by taking appropriate measures to ensure safe, satisfactory pool table services.
We use the appropriate tools and techniques to provide a high quality and efficient pool table move. The idea is to disassemble it with ease, so re-installations can be easy and precise. The last thing you want is to damage your pool table in the process. That's what pros are for.